The Only Thing "Lite" About This Impressive Interface Is Its Size
The fifth-generation MOTU UltraLite-mk5 packs 40 simultaneous channels — 18-in and 22-out — in a compact, portable USB audio interface that vaunts reference-quality ESS SABRE PRO D/A and an astonishing 2.4ms of round-trip latency. The UltraLite-mk5's dual microphone preamps offer crystal-clear audio capture, and with this much I/O at your disposal, you'll have no trouble integrating your favorite outboard hardware. This high-performance audio interface's loopback functionality makes podcasting and livestreaming a piece of cake. Likewise, thanks to excellent-sounding onboard DSP and overhauled CueMix 5 software, achieving spot-on monitor mixes is super simple. Compatible with Mac, PC, and iOS, the MOTU UltraLite-mk5 comes with Performer Lite DAW software, 100-plus virtual instruments, and 6GB of loops/samples.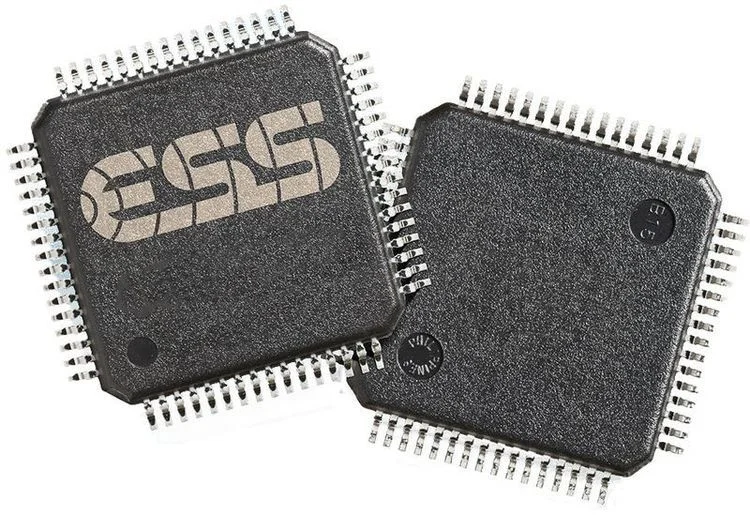 Reference-quality ESS SABRE PRO D/A and super-low latency
Whether you're onstage or in the studio, top-shelf sound and rock-solid operation are crucial. The UltraLite-mk5 delivers on both fronts. It boasts ESS Technology's reference-quality ES9026PRO SABRE D/A, which yields a 125dB dynamic range and -114dB THD+N. You'll benefit from round-trip latency of 2.4ms over USB at 24-bit/96kHz. And, thanks to optimized drivers, the UltraLite-mk5 offers reliable performance on Mac, PC, and iOS.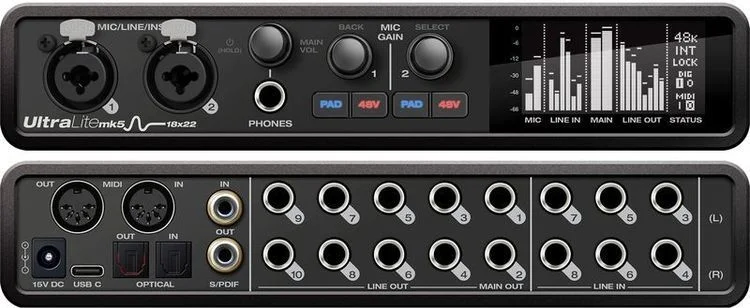 Jam-packed with comprehensive connectivity
The MOTU UltraLite-mk5 packs a lot of I/O into its portable half-rack enclosure — 40 simultaneous audio channels, if you add them up. This 18-in/22-out USB audio interface includes two crystal-clear mic/line/instrument inputs, along with six line inputs and 10 line outputs. A superb-sounding headphones output, eight channels of digital optical I/O, and MIDI I/O round out the UltraLite-mk5's audio connections. You also get loopback functionality — a must-have feature for podcasting and livestreaming.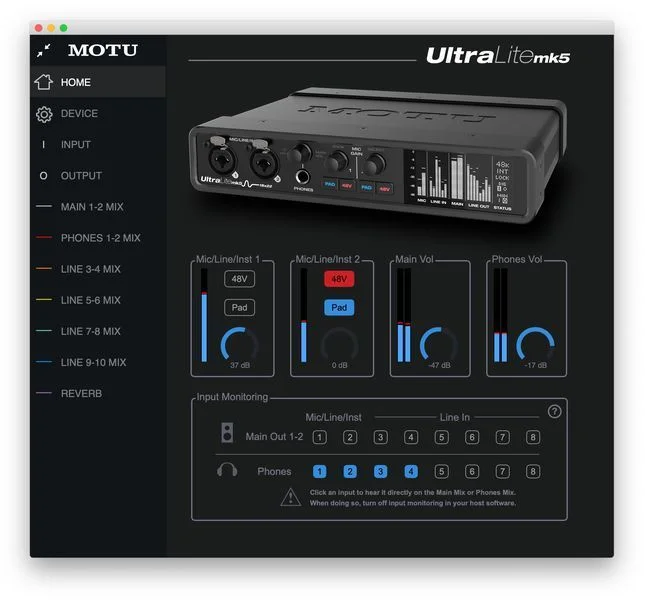 Onboard DSP and overhauled CueMix 5 software
Here at Sweetwater, one of our favorite UltraLite-mk5 features is its excellent-sounding onboard DSP, which includes reverb, a 4-band parametric EQ, and dynamics. This USB audio interface also includes a built-in, DSP-driven 22-in/6-out monitor mixer that provides a separate monitor mix for each analog output pair. MOTU's CueMix 5 software gives you easy-to-use, comprehensive, graphic control over your mix. Plus, CueMix 5 has been completely overhauled — its eye-grabbing graphic mixing, graphic editing of its parametric EQ, and convenient, touch-friendly interface are guaranteed to turbocharge your workflow.
Tech Specs
| | |
| --- | --- |
| Computer Connectivity | USB 2.0 |
| Form Factor | Rackmount |
| Simultaneous I/O | 18 x 22 |
| Number of Preamps | 2 x mic |
| Phantom Power | Yes |
| A/D Resolution | 24-bit/192kHz |
| Effects:Onboard DSP | Onboard DSP: reverb, 4-band parametric EQ, dynamics |
| Analog Inputs | 2 x XLR-1/4″ combo (mic/line), 6 x 1/4″ (3 x stereo) |
| Analog Outputs | 10 x 1/4″ (5 x stereo) |
| Digital Inputs | 1 x Coax (S/PDIF), 1 x Optical Toslink (ADAT) |
| Digital Outputs | 1 x Coax (S/PDIF), 1 x Optical Toslink (ADAT) |
| Headphones | 1 x 1/4″ (stereo) |
| MIDI I/O | In/Out |
| USB | 1 x USB-C |
| Software | Motu CueMix |
| OS Requirements | Mac:OS X 10.11 or later, iOS 13.5 or later |
| OS Requirements | PC:Windows 10 or later |
| Rack Spaces | 1U |
| Power Supply | 12V DC power supply (included) |
| Height | 1.75″ |
| Width | 8.6″ |
| Depth | 6.9″ |
| Weight | 2.87 lbs. |
| Manufacturer Part Number | 8453 |