Upgraded DAC, Dual Full-color Displays, and AVB Networking
With the 828es, MOTU's legendary audio interface has been retooled with an ESS Sabre32 DAC and dual full-color displays. This interface delivers pristine audio playback, with an outstanding 123dB of dynamic range. Its recording performance is just as impressive, with round-trip latency as low as 1.6ms at 96kHz. A superb complement of I/O includes 60 simultaneous audio channels, two great-sounding mic preamps, a range of digital options, and AVB networking. Employ the 828es as a standalone mixer, or enjoy wireless control from your tablet, smartphone, and laptop. The 828es's powerful DSP-driven mixer gives you 48-channel mixing, along with a range of great-sounding digital effects. The 828es makes a fine centerpiece for any studio.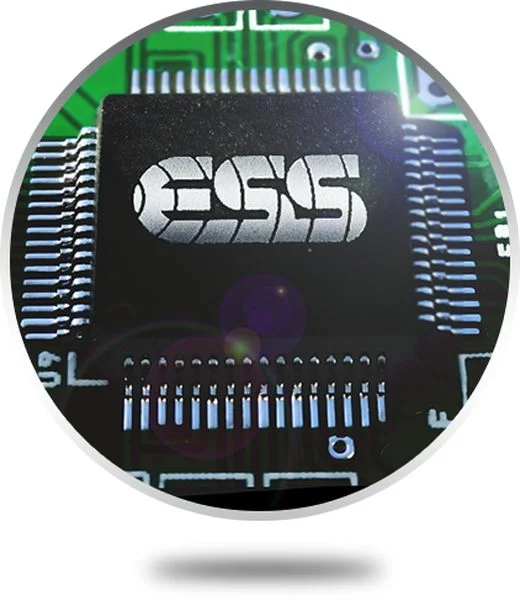 High-end converters, ultra-low latency, and ample I/O offer top-shelf performance
Sweetwater and MOTU have enjoyed a long-standing relationship, due to MOTU's products offering our customers superb sound and solid performance. The 828es follows suit, packing top-notch sound, impressively low latency, and ample I/O into a single-rack enclosure. Renowned ESS Sabre32 DAC technology delivers 123dB of dynamic range, ensuring that the 828es's analog audio quality can hang with the most impressive gear on the market. Optimized drivers yield round-trip latency as low as 1.6ms at 96kHz via Thunderbolt and 1.9ms via USB. Packed with connectivity, the 828es includes two mic preamps, eight analog inputs, eight analog outputs, two analog XLR outputs, and a pair of stereo headphone outputs. The 828es also supplies you with 16 channels of ADAT, as well as stereo S/PDIF, MIDI, and word clock I/O.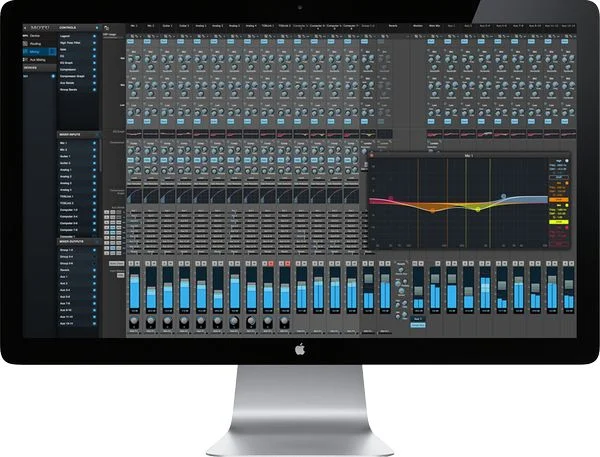 DSP-fueled mixer with EQ, compression, and effects
The MOTU 828es's built-in digital mixer delivers large-console-style mixing with 48 channels, 7 stereo buses, 3 groups, access to 32 network inputs, and 32-bit floating-point effects processing, so building complex, latency-free routing schemes is a piece of cake. And routing is extremely flexible. Send any input to any output, or even multiple outputs. Add Classic Reverb, with lengths up to 60 seconds. Sculpt your sound with a 4-band British parametric EQ. Apply vintage compression that's modeled after the legendary LA-2A. The 828es's mixing and effects DSP engine exhibit virtually unlimited headroom and outstanding sound quality.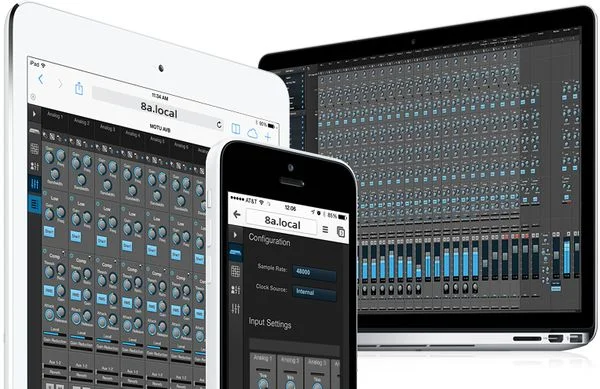 Control everything from your laptop, tablet, or smartphone
If you connect a wireless router to your 828es, you can access all of its internal mixing functions, including effects and processing on your tablet, smartphone, or laptop, turning this powerful audio interface into a fully capable standalone mixer. Best of all, the control software is web-based. It runs in your favorite web browser on Mac, Windows, Linux, iOS, or Android — basically anything — as long as it's on the same network.

Expand your system with additional AVB networkable audio interfaces
Another extremely cool use of the 828es's Ethernet connection is the ability to link more MOTU AVB-equipped audio interfaces to it. You can do this in one of two ways: directly via a simple Ethernet cable or as part of an audio network via one or more MOTU AVB Switches. If you go with just a single Ethernet cable, you can easily link a second 828es or other AVB-ready device directly to your first one. With MOTU AVB Switches, you can create an audio network of up to five units, potentially linking hundreds of channels of I/O across multiple rooms. And since it's all over standard Cat-5e Ethernet cable, latency and long cable runs aren't an issue.
Tech Specs
| | |
| --- | --- |
| Computer Connectivity | Thunderbolt 2, USB 2.0, Ethernet AVB |
| Form Factor | Rackmount |
| Simultaneous I/O | 28 x 32 |
| A/D Resolution | Up to 24-bit/192kHz |
| Number of Preamps | 2 |
| Phantom Power | Yes |
| Analog Inputs | 2 x XLR-1/4″ combo (mic/line/instrument), 8 x 1/4″ (line) |
| Analog Outputs | 8 x 1/4″ (line out), 2 x XLR (main out), 2 x 1/4″ (sends) |
| Digital Inputs | 1 x Coax (S/PDIF), 2 x Optical (ADAT) |
| Digital Outputs | 1 x Coax (S/PDIF), 2 x Optical (ADAT) |
| Headphones | 2 x 1/4″ TRS |
| USB | 1 x Type B 2.0 |
| Thunderbolt | 1 x Thunderbolt 2 |
| Data I/O | 1 x Ethernet (AVB/TSN) |
| MIDI I/O | In/Out |
| Other I/O | 1 x 1/4″ (footswitch) |
| Clock I/O | 2 x BNC (In, Out/Thru), 2 x 1/4″ (TC In, Out) |
| OS Requirements – Mac | OS X 10.8 or later |
| OS Requirements – PC | Windows 7 or later |
| Rack Spaces | 1U |
| Power Supply | Standard IEC AC cable |
| Height | 1.75″ |
| Width | 19″ |
| Depth | 7″ |
| Weight | 4.1 lbs. |
| Manufacturer Part Number | 9380 |