16-channel, 8-preamp 24-bit/96kHz USB Audio Interface
The MOTU 8pre USB is a handy multipurpose solution for your studio. For starters, it's a powerful 24-bit/96kHz USB audio interface, boasting a full complement of eight microphone preamplifiers. Better yet, the MOTU 8pre USB has two banks of ADAT optical ports, so you can easily connect it into your existing interface system to beef it up with eight more preamplifiers. And, beyond all that, it has MOTU's CueMix DSP functionality, so you can flexibly route audio to create separate monitor mixes and headphone mixes on the MOTU 8pre USB — with no latency.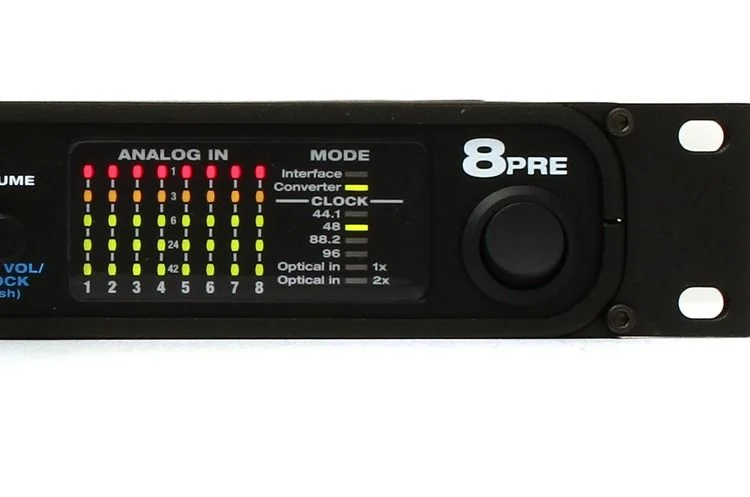 Fully featured interface for any recording setup
The MOTU 8pre USB is designed to serve as the centerpiece of your DAW-based recording studio. With its eight quality microphone preamplifiers (on XLR/TRS combo jacks), you'll have enough inputs to handle nearly any recording situation. Add to that its excellent 24-bit/96kHz resolution and fast USB 2.0 connectivity, and the MOTU 8pre USB is all you need to achieve great-sounding recordings, whether that's in your studio or out in the field. If you need more inputs, the 8pre USB features two banks of ADAT optical I/O. You can easily pipe in any ADAT-output-equipped audio interface and record eight more channels through the MOTU 8pre USB.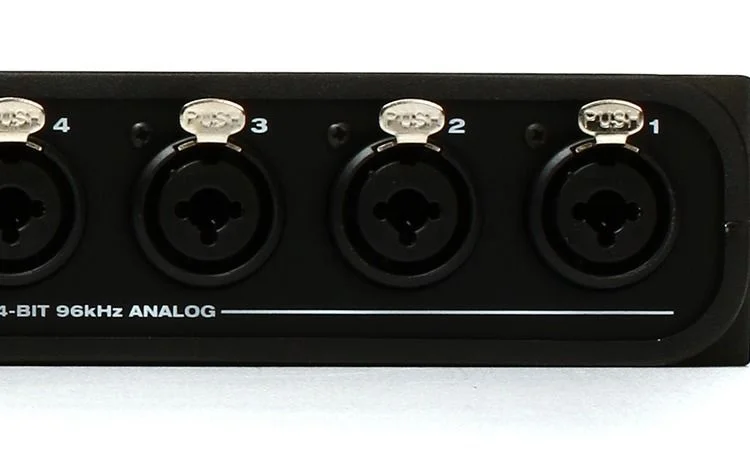 Give your existing rig eight more preamplifiers
If you already have a working studio setup, you can easily expand your rig with the MOTU 8pre USB. Because it offers ADAT output, you can connect it up to your unused ADAT port and take advantage of 8pre USB's eight stellar microphone preamplifiers. It's a great way to turn your rig into one that can handle recording an entire band, including professionally miking the drums. And, the great part is that because the 8pre USB can operate as a standalone audio interface you won't be locking yourself into getting "just" an 8-channel microphone preamplifier. So, if your needs require, you can always leave the rest of your studio connected at home, while you take the 8pre USB out to a friend's house or to a live show, to record on a smaller scale.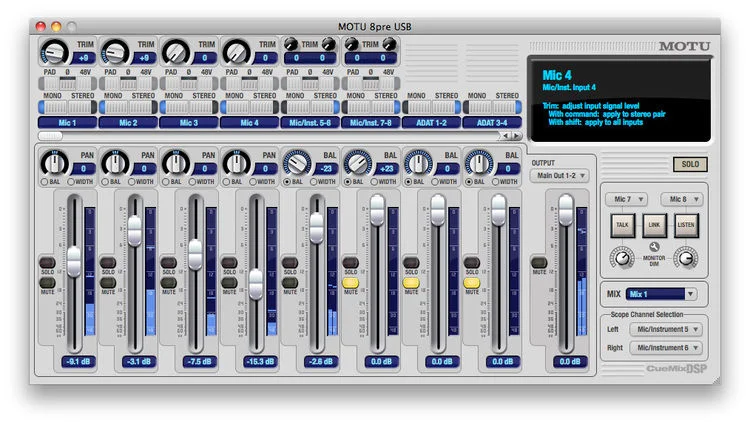 CueMix DSP lets you create effective monitor mixes — with no latency
Connect up all your gear to the MOTU 8pre USB, then use its onboard CueMix DSP to create complex monitor mixes — without hitting up your computer for processing power. With CueMix and your 8pre USB, you can create up to four separate stereo monitor mixes, assigned to any digital or analog output pairs. Each mix can support all 16 of the 8pre USB's inputs — its eight XLR/TRS analog inputs and its eight ADAT optical digital inputs. Just blend in whatever amount of them you like, then let CueMix DSP do all the work. CueMix DSP supports talkback and listenback, as well, so you and musicians can communicate between the live rooms and control rooms.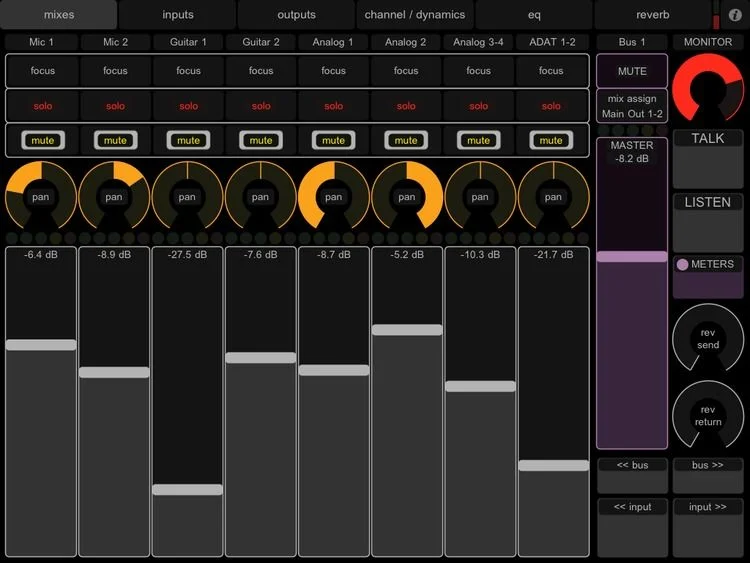 Control CueMix with your iPad
MOTU's CueMix FX software, the mixing software that drives the powerful routing of the 8pre USB, can be controlled from your iPad. MOTU created CueMix templates for the TouchOSC controller app, giving you complete control over your 8pre USB's mixing and effects processing over a Wi-Fi network. This means that when you're recording in your studio, you don't need to keep going back to your computer to adjust gain levels, change monitoring effects, or virtually anything else you rely on CueMix for.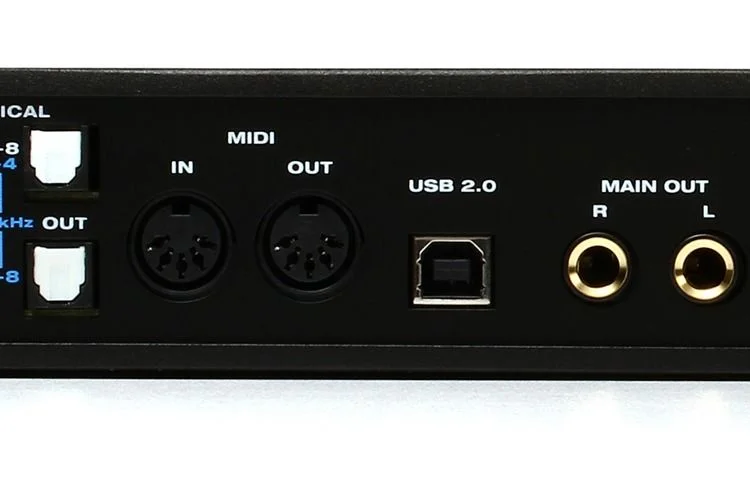 16 channels of MIDI I/O
The MOTU 8pre USB features an integrated 16-channel MIDI interface, delivering sample-accurate timing to software hosts that support it. The USB signal carries your MIDI signal to your computer.
SMPTE time code synchronization
Beyond its robust I/O and routing capabilities, the MOTU 8pre USB features onboard SMPTE (Society of Motion Picture and Television Engineers) time code synchronization, so you can slave your 8pre USB to SMPTE, without a synchronizer.
Tech Specs
| | |
| --- | --- |
| Computer Connectivity | USB 2.0 |
| Form Factor | Rackmount |
| Simultaneous I/O | 16 x 12 |
| Number of Preamps | 8 |
| Phantom Power | Yes |
| A/D Resolution | 24-bit/96kHz |
| Effects | Yes |
| Analog Inputs | 8 x XLR/TRS Combo |
| Analog Outputs | 2 x TRS (Main), 1 x TRS (Headphones) |
| Digital Inputs | 2 x ADAT (Optical, 8 Channels, 48kHz/8 Channels 96kHz) |
| Digital Outputs | 2 x ADAT (Optical, 8 Channels, 48kHz/8 Channels 96kHz) |
| MIDI I/O | In/Out |
| Rack Spaces | 1U |
| Height | 1.75″ |
| Width | 19″ |
| Depth | 7″ |
| Manufacturer Part Number | 8510 |